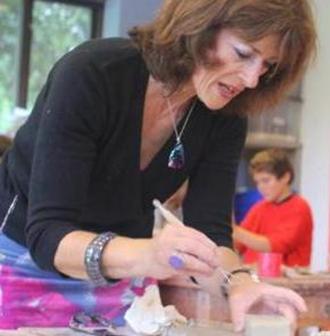 Elaine has had a long career in ceramics, which has included studying under the celebrated Henry Hammond whilst at Farnham Art College and working for a large pottery in Surrey as part of the throwing and making team. After setting up her own workshop in Frensham she returned to study at West Surrey College of Art and Design where she gained her BA (Hons) in Ceramics. Elaine is a Full Member of the Craftsman Potter's Association.
She began teaching at Bedales prep, Dunhurst, and became Head of Creative Studies in 2000. Whilst teaching full-time, she also studied at Roehampton University, London and gained her Postgraduate Diploma in Art, Craft and Design Education in 2010. Elaine has also enjoyed teaching GCSE and AS level Art at Bedales' senior school.  Leaving Bedales in 2013 gave Elaine the opportunity to set up a new pottery workshop in Frensham running classes for both adults and children. She has relished sharing her enthusiasm for clay and creativity with budding potters.
In March 2020 lockdown gave Elaine the time and space to combine her two major passions: throwing on the wheel and the natural world. Pheasants, spotted woodpeckers and an array of birds are always to be seen around the barn door as she works, inspiring colours for handmade glazes and forms for pots.
Growing organic vegetables, cooking, baking and sharing food with family are also great loves. Elaine is constantly seeking to perfect her designs for objects that work well in the kitchen and are satisfying to use, hold and touch.  In her spare time she enjoys long country walks across Frensham's fields, woodland and meandering country lanes and discovering new footpaths with her little black cockerpoo, Alfie.